Save 10% on every SIM with a Group plan
Start a Group
New to SMARTY? Choose a plan to start
Bring your family accounts together
You can choose plans for your kids that suit their data needs or help out with Mum's account. Save time by paying from one place and get 10% off every SIM.
Adding an extra SIM is easy
Manage multiple SIMs for your tablet, work phone, or anything else you need. You can add up to 8 SIMS, including the group owner.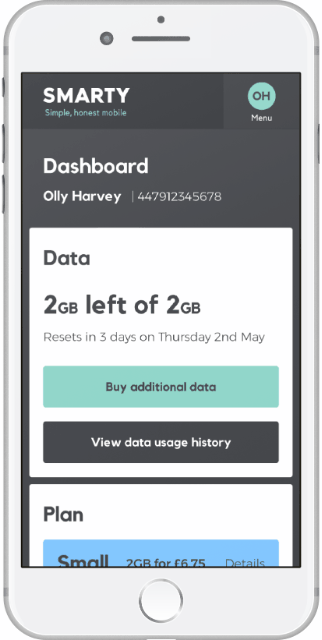 Choose a plan that's right for you

Whether you'd like unlimited calls and texts, just data, or money back for unused data, pick the plan that suits your needs.

Easy account management

Manage everyone's usage and payments from one place. Change plans or purchase add-ons for each SIM.

Save an extra 10% on every plan

Add up to 8 SIMs on one account, ideal for multi person households and devices. And, if you choose a money back plan, you'll also get a data discount for unused data.
Start your Group

Log in, go to your Group plan page and choose whether you'd like to add an existing SMARTY account or add a new SIM.

We'll keep you informed

If you invite an existing SMARTY account, once they accept, you'll get a notification letting you know they've been added to your Group with details of their next month's charges.

If you add a new SIM, we'll add it to your Group automatically. You'll receive a notification once it is activated and the monthly plan has started.

Enjoy discounted plans

Save an extra 10% on every SIM you add to your Group. Stay flexible if you change your mind. Save time and money. That's SMARTY.
How does it work?
Start a Group from your dashboard and become the group owner by adding a member. A Group can be just 2 plans up to a total of 8, and as soon as there are 2 plans in the Group you start saving. Any SMARTY customer who is at least 18 years old can start a Group.
Group owners can
Make all of the Group's payments and manage all payment details

See every member's plan, usage, and call history starting from the day they join the Group

Edit every member's plan and purchase add-ons to their plan

Remove any member from the Group and/or cancel the service for any member

Add friends and family members to the group, up to a total of 8, including the group owner
Group members can
See their own plan, usage, and call history

Edit their own personal details
Things to bear in mind
Each Group can only have one owner and role cannot be transferred to another person.

Group members won't have access to any other group member's account, unless they're the group owner.

Group members won't have access to any payment related actions, such as buying add-ons or changing plans.

Group members with an existing offer will start receiving the group discount once their offer expires. Group members with an existing offer that doesn't expire will keep their offer and the group discount won't be applied.
Need help?
Visit our SMARTY Groups support pages